How do you attract the attention of retail executives during their busiest season, weeks before their biggest industry trade show? This is the challenge of nearly company that sells software to retailers.
Even software makers who don't sell to retailers can borrow a few useful strategies from those who do. You'll read two relevant stories in a moment.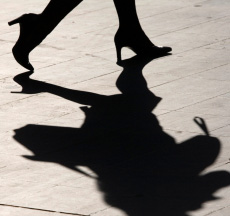 Biggest industry trade show
Every year as the Big Show of the National Retail Federation (or NRF) draws near, hundreds of software vendors scramble for ways to win the attention of the key executives who may attend.
The NRF show occurs toward the middle of January, always at the Javits Center in New York City. It attracts about 10,000 C-level or senior executives from retailers of all sizes and from many countries.
Best prospects are often hardest to reach
Here's the challenge for exhibitors: If you find someone in your target audience who is easy to reach, he or she probably isn't a decision maker. The bigger the company, the more elusive your prospects will be.
How, then, do you reach the right people? Whether or not you sell software to retailers, you can use these four principles to reach busy senior executives in any tightly focused market:
1. Before you communicate, be sure you understand their needs, desires, interests, goals, challenges and beliefs.
Have you developed buyer personas to help you define the interests and needs of people whose attention you want? If not, you can find some guidance here on how to do so.
Read what they read
Immerse yourself in the media they use every day. To understand what's on the minds of CEOs, general managers and financial executives, read the best general-business publications, including the New York Times, the Wall Street Journal, Bloomberg Business Week, Forbes, Fortune, The Economist and others.
Study the trade press
For retailers, also read publications aimed at the retail industry and its relevant sub-segments, including STORES, Chain Store Age, Supermarket News, Drug Store News, Hardware Retailing, Apparel, Women's Wear Daily, and the like.
Also stay on top of the primary cross-industry publications for the business functions you're trying to appeal to, such as finance, risk management, supply chain, information technology, etc.
Research keywords and social media
Conduct keyword research to understand the most popular search topics in the industry. And finally, follow the many industry-related groups on LinkedIn and monitor their discussion topics.
Interview your customers
You can get the clearest and most direct insight by conducting brief interviews with half a dozen executives from the each of groups you want to reach. This isn't easy if you can't get their attention to begin with. So start by interviewing your customers, who have a vested interest in helping you succeed.
Although this research takes a lot of work, it can pay you back in nearly every sales and marketing initiative you undertake with the insights you gain.
2. Talk about their interests and priorities, not yours.
Recognize that only about 3% to 7% of any market is ever actively looking to buy any product or service. Another 5% to 8% may be willing to listen, even if they're not shopping.
Everyone else – about 85% to 92% of your target audience – will not be open to hearing about your latest widget. They're too busy to give you their attention.
You probably won't connect unless you speak to a senior executive's current priorities.
3. Establish a link between their current interests or priorities and your offering -- even if the connection is indirect.
Blue Ridge Inventory Group wanted to appeal to chief financial officers (or CFOs) at mid-sized to large retailers. They knew from past experience that nearly all CFOs want to keep their inventory under control, but it may not be a top priority at the moment. Few are interested in the details of how to do it.
So Blue Ridge appealed instead to a topic that interests nearly all CFOs: The valuation of their company.
Cite recognized experts
Through research of the kind described above, Redwell helped Blue Ridge identify David Berman, a hedge-fund manager and private-equity investor who links inventory to share value. He has the chops to get the attention of CFOs at big retail companies. He's been interviewed about retail trends on CNN and Bloomberg News, and he also appears in a case study for his alma mater, the Harvard Business School.
Before investing money in a retail company, Berman looks carefully at the way they manage their inventory. If inventory values are rising faster than sales, he reasons that the retailer will eventually have to take markdowns to liquidate the excess inventory. Gross margins and net margins will suffer, and the value of the retailer's stock will fall. So Berman avoids the investment or he shorts it.
Promote helpful ideas before you promote your product
With this insight, Blue Ridge's CEO posted an article about the connection between inventory levels and stock valuation on the company's blog. He then sent an e-mail message to retail CFOs who may be attending the NRF show. His message focused on ways to protect a retailer's share value -- with "inventory discipline" (not the dull topic of "inventory management") being paramount to a shrewd investor like Berman. The e-mail message links to a blog post for details.
The Blue Ridge blog post notes that Berman is an expert in evaluating retailers, not in helping them reduce excess inventory. That's where Blue Ridge fits in, the post says. Blue Ridge's CEO then invites CFOs to visit the Blue Ridge booth at NRF for a free diagnostic consultation. The consultation, he says, can help them maintain the value of their stock by improving the inventory discipline of their organization.
4. Be of service. Provide real value.
Your goal should always be to provide useful, valuable information -- even if a retailer has any current interest in doing business with your company. By establishing your reputation for helpfulness, you become a go-to resource when they later need something you offer.
Jesta I.S., a software provider in Montreal, recently followed this model with good success. The company sells merchandising, supply-chain and store systems to retailers. Many of Jesta's best customers are retailers of apparel, footwear and accessories. They typically operate from about 50 to about 500 stores each.
Not many of these companies are actively shopping for new merchandising systems. Even among the few companies that are evaluating such systems, only a handful of people would be eager to talk to Jesta about a topic most people think is duller than flat black paint.
Broaden your appeal
Even so, Jesta I.S. attracted the interest of many dozens of retailers at November webinar – well into their busiest season. How? By talking about markdowns. The potential audience for markdowns is much broader than for merchandising systems.
Nearly all apparel and footwear retailers are preoccupied with markdowns – especially during the holiday shopping season – because markdowns are a major factor in their profitability.
In addition, the topic appeals to managers in many functional groups within a retail organization. Many can help reduce the excess inventory that causes unwanted markdowns – including buyers, merchants, demand forecasters, replenishment analysts, supply-chain executives, financial executives, marketers, regional store managers, local store managers, and others.
Don't pitch your product too directly
Redwell helped Jesta I.S. develop a webinar on markdowns to help make this broad target audience aware that Jesta's systems can help them reduce markdowns. But the webinar focused on economic benefits and practical ways to reduce markdowns, rather than on the functional capabilities of Jesta's software.
References to Jesta's software were intentionally brief and oblique. You can view the recorded webinar through at NRF's Stores Knowledge Series.
Jesta I.S. also provided a document that reminds attendees of the value they got from the webinar. It makes the content available to people who didn't attend or who don't have time to watch a video replay.
Both the document and the webinar still have a productive life for lead generation, months after their debut. The related white paper is available for download here.
To recap, you can often attract more attention and respect from busy executives by talking first about their needs, priorities and interests; by providing truly helpful and useful information; and finally – after you've earned their respect and appreciation -- by talking the value your solutions provide.
For information about the techniques and benefits of inbound marketing, go here.