With more than 812 million users on Facebook at the time of this writing, social media are clearly more than a passing fad. As useful as social media have become for business-to-consumer (or B2C) marketers, what is their relevance for business-to-business (or B2B) marketing?
The question is addressed and answered--at least in part--by the new 2012 State of Inbound Marketing report, released at the end of February 2012.
The report, compiled by HubSpot, Inc., summarizes the findings of a survey 972 B2C and B2B marketers conducted in January 2012.
Respondents work in retail, technology, professional services, communications, media, and other industry segments.
Most (72%) of respondents work for B2B companies. Their businesses range in size from a few employees to more than 500.
Businesses increase spending for blogs & social media
The average marketing budget increased for both blogs and social media between 2009 and 2012, the survey found. Here are the details:
Blogs and social media rose from 9% of budget in 2009 to 21% in 2012.
Social media grew more than blogs, from 8% in 2010 to 13% in 2012.
Blogs grew only from 7% in 2010 to 8% in 2012.
Social media deliver leads & new customers
Social media offer several benefits that are important to B2B marketers, including the building of awareness and brand. For technology marketers, social media can also help establish a reputation for thought leadership.
But to satisfy internal skeptics, social media must deliver benefit that are easier to measure, with a clearer return on investment. They must generate sales leads, help acquire new customers, and deliver revenue.
How, then do social media measure up against other channels for acquiring customers?
More new customers than ads, mail, phone, & tradeshows
More survey respondents said they acquired new customers through search-engine optimization, direct traffic to websites, referrals, and paid search than through social media.
Even so, nearly twice as many respondents (4%) cited social media as a good source of new customers over outbound marketing (2%) channels. Outbound marketing channels include advertising, tradeshows, telemarketing, and direct mail. (Please see the chart below.)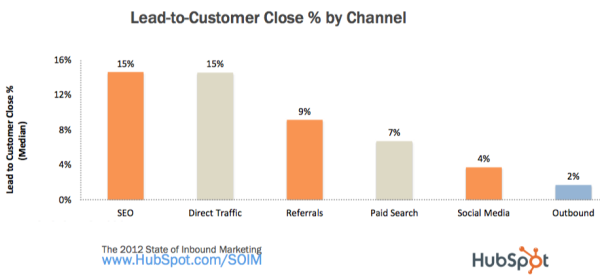 LinkedIn tops other channels for new B2B customers
Among social media, a somewhat higher proportion of B2B marketers (65%) identified LinkedIn as a source of new customers than their company blog (55%).
Among social media, LinkedIn far outpaces both Facebook (43%) and Twitter (40%) in attracting new B2B customers. (Please see the chart below.)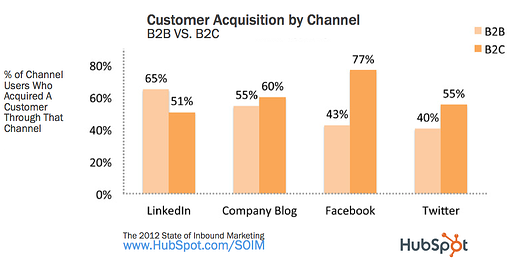 Note that survey participants were asked which sources delivered at least one new customer. They were not asked how many customers each source delivered.
While fewer reported that both Facebook and Twitter delivered new B2B customers, both sources contributed.
Social media climb in lead-generation effectiveness
If we look at social media as a source of leads rather than of customers, we see that social media have grown the most in importance over the past six months. (See chart below.)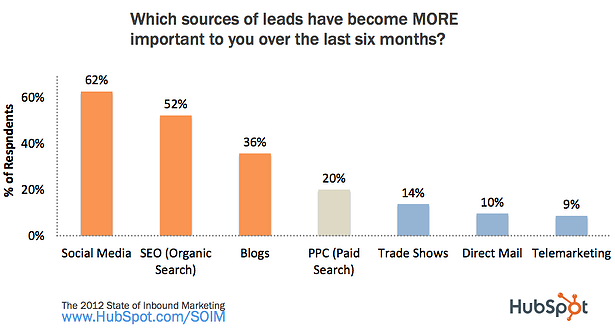 Note that everyone is so enamored with blogs; 10% of respondents said blog had become less important as a source of leads in the past 6 months.
Implications for B2B: Fix blog, then focus on LinkedIn
As a cautionary note, remember that general trends can't tell you which marketing channels are best for the markets you serve. The B2B markets you serve may be atypical. It's possible they don't use social media at all.
Your best bet is always to ask your customers and prospects how they prefer to gather the information they use to buy products or services like yours.
But if you haven't asked your markets, the HubSpot survey data suggest a logical sequency of action for you to get more involved with social media:
If you don't already have a company blog, start one now. Although social media have become more important of late, blogging is still a more effective channel for generating B2B leads.
Increase the frequency of postings on your company blog to improve search rankings and generate more sales leads. Publish at least one blog post a week.
Start your B2B social media work with LinkedIn.
Once you're rolling with LinkedIn, explore Twitter and Facebook. Also keep a close eye on Google+.
If you follow this simple sequence, you're likely to see the biggest return on your investment of time and effort.
Do you have any thoughts or insights to share? Please tell us your own experience.